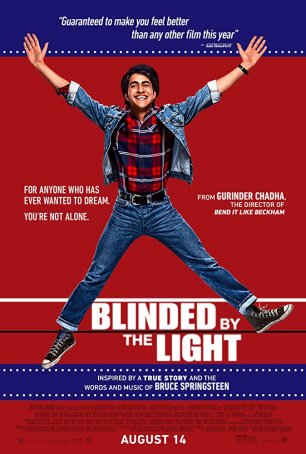 Blinded by the Light is a 2019 British comedy-drama film directed by Gurinder Chadha. It was inspired by the life of journalist Sarfraz Manzoor and his love of the works of Bruce Springsteen. Manzoor co-wrote the script, with Chadha and Paul Mayeda Berges. It is based on Manzoor's memoir Greetings from Bury Park: Race, Religion and Rock N' Roll. Set in the town of Luton in 1987 Thatcherite Britain, the film tells the coming-of-age story of Javed, a British-Pakistani Muslim teenager whose life is changed after he discovers the music of Springsteen. Viveik Kalra stars in the lead role, along with Hayley Atwell, Rob Brydon, Kulvinder Ghir and Nell Williams in supporting roles.
In 1987, Javed Khan and his family – Pakistani immigrant parents Malik and Noor, and sisters Yasmeen and Shazia – live in Luton, England. Javed likes contemporary rock music, which Malik disapproves of. Javed writes poetry and lyrics for his best friend Matt's band, but Matt critiques Javed's work for being depressing. Javed feels out of place at his new school, where he is one of two South Asian students; the other, Roops, is a fan of "The Boss". In Ms. Clay's writing class, Javed develops a crush on a student activist named Eliza and becomes interested in the writing assignments. Javed talks to Ms. Clay after class about his poetry and diaries. During lunch Roops approaches him and gives him two Bruce Springsteen cassette tapes, calling Springsteen "the direct line to all that is true in this shitty world." Javed faces constant racism from his peers and neighbours, and Malik forbids him to socialise, insisting he "follow the Jews" in his school because of their success as a people.
Javed is rejected as a writer by the school paper. At the same time, Vauxhall Motors lays off Malik. Frustrated by racism and Malik's inability to understand him, Javed discards his poems on the night of the Great Storm of 1987. After listening to the Springsteen tapes, the lyrics immediately speak to him, and he recovers his poems. At school, Javed excitedly tells Roops that Springsteen knows exactly how he feels. Inspired to continue writing, he submits his poetry to Ms. Clay. A neighbour, Mr. Evans, recovers one of Javed's poems that decries the National Front, who are planning a local march. As a World War II veteran, Mr. Evans sympathizes with Javed's feelings and calls the poem brilliant, but Javed's parents are less appreciative. Javed submits a piece about Springsteen to the newspaper. Meanwhile, Malik becomes aggravated over mounting bills and Yasmeen's upcoming wedding. Javed takes a job with Matt's father, also a Springsteen fan, at his flea market. Matt's father helps Javed impress Eliza by singing Springsteen songs.
Javed asks out Eliza, steeling his nerves with Springsteen songs. The two kiss, and Javed gives Eliza a poem, which she loves. Ms. Clay enjoys his poems and arranges an unpaid internship at the Herald. Javed and Roops lock themselves in the school radio station and play Springsteen, briefly getting in trouble. Amid more racist intimidation, Eliza invites Javed to meet her parents; Javed tries to hide his discomfort. At the Herald, Javed gets paid after an article he wrote about racism is chosen for the front page. Javed uses the money to buy tickets for a Springsteen concert on Yasmeen's wedding day. Before his parents arrive at the wedding, National Front members assault Malik. Upset that Javed withheld money from the family, Malik rips up the tickets. Javed stuns his parents by telling them he does not want to be their son.
At school, Eliza chastises Javed for abandoning his family and using them as an excuse to stop seeing her. In class, Ms. Clay tells Javed his Springsteen essay won him attendance to a lecture at Monmouth College in New Jersey, near where Springsteen grew up. Javed initially declines, knowing his father will disallow him, but changes his mind. Malik tells Javed that if he leaves, he will not be allowed to return. Javed and Roops take the trip to the States. It inspires Javed to write something new. Back home, Noor tells Malik to reconcile with Javed and reminds him that he left his own family and country at a young age. Eliza recruits Javed's family to show up in support when he reads his winning essay. Instead of reading his essay, Javed talks about how "Blinded By The Light" mirrors his father's troubles. Everyone is moved. He reconciles with Eliza and thanks her for inviting his family. Malik reconciles with Javed and tells him that he has listened to Springsteen and admires the themes of working hard and respecting one's family. As Javed leaves for university, he and Malik listen to Springsteen together.
A feel good coming of age movie that has some awesome music courtesy of The Boss, this was really fun to watch. I enjoyed it a lot. 8.5 outta 10!