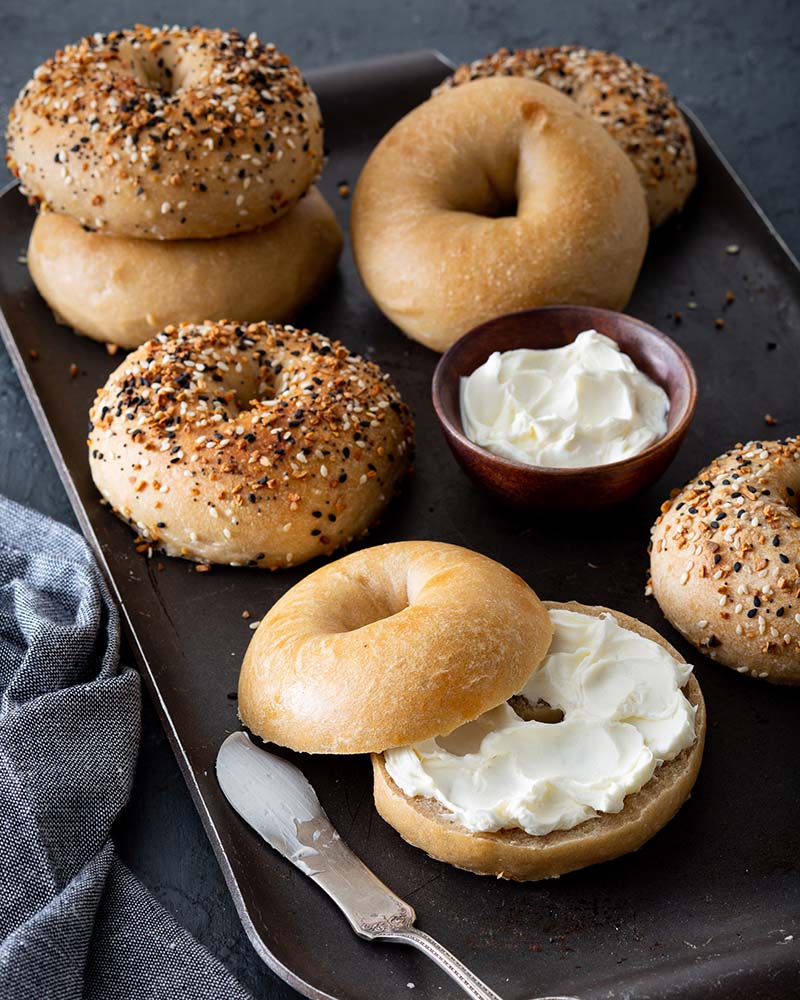 A bagel, is a bread product originating in the Jewish communities of Poland. It is traditionally shaped by hand into the form of a ring from yeasted wheat dough, roughly hand-sized, that is first boiled for a short time in water and then baked. The result is a dense, chewy, doughy interior with a browned and sometimes crisp exterior. Bagels are often topped with seeds baked on the outer crust, with the more or less traditional ones being poppy and sesame seeds. Some may have salt sprinkled on their surface, and there are different dough types, such as whole-grain and rye.
I have wanted to eat bagels ever since I saw a travel show about Montreal that featured the bagels. Then I learned that New York is pretty famous for their bagels and both cities have a decently sized Jewish community. Montreal bagels are created and cooked much differently than New York style bagels. Hand-rolled, boiled in sweetened water, and baked in a wood-fired oven, Montreal bagels are thinner, smaller, and much sweeter than their counterparts. New York bagels tend to be much larger, with a softer, more chewable interior due to the lack of eggs and it's time spent baking in more traditional ovens.
What about me here? I finally got my change to try a bagel, actually a bagelwich. It had a bit of cream cheese, pork sausages and egg. The bagel itself was a cheese & jalapenos bagel and it was delicious. Usually bagels are eaten with cream cheese and/or lox. But you can eat them like other sandwiches and usually eggs or deli meat with condiments are added. Smoked salmon + cream cheese + dill. Egg + cheese. Tomato + onion + cream cheese + avocado. Marinara + chicken + mozzarella. Avocado & Poached Egg. Tuna salad. Or a burger patty, with melted cheese, onions, pickles, lettuce and bacon.