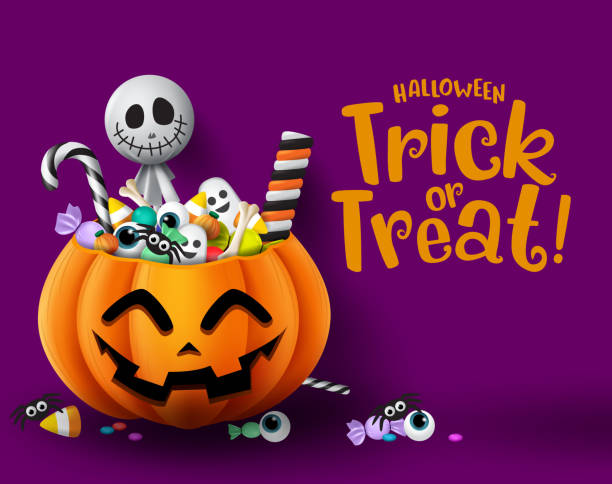 Obey the Halloween code. This means only go to houses that are well lit and look like a Halloween friendly home. Try not to disturb anyone after 8 or 9 pm. And never go to a dark house – the code for any more trick-or-treating!
Respect personal property. Use the right path to the house and don't jump through bushes and landscape to get to the door.
Only knock or ring the doorbell once. If no one comes to the door move on. They may be in a sticky situation and unable to answer the door.
Don't forget to use the magic words – "Please" and "Thank you" are always appropriate while trick-or-treating!
No greedy grabber! Assume one piece of candy unless the house owner says otherwise. Respect the honor system if candy is left out on the porch. Again, don't be a greedy grabber.
Safe Candy – Don't eat anything unwrapped or home-made from strangers. Children (especially with allergies), please be careful with the candy and sort through with your parents.
Plan your route. Plan your route and remind your children about traffic safety. Visit a house only one time. Don't go back for more! Stick to paths that you and your children are familiar with. Have a safe meeting place incase anyone gets lost from the group. Encourage all your children to WALK not run! Give a quick traffic safety reminder 101 –  cross the roads at crosswalks and corners. Always check left, right, and left again is always useful.
Sharing is caring. Be willing to share candy and trade with friends and respect your parent's decision on how much candy to eat!
Bring lights! Wear reflective gear or necklaces. A flash light always helps–especially your child trips and all the Halloween candy falls out of the bag.
Test the Costume – Make sure that the costume is safe, comfortable and warm enough. Loose fitting clothes and oversized shoes can trip a little trick-or-treater. Avoid props that are sharp such as a sword or sticks. Decide on comfy shoes. And finally make sure that you can add layers and warmth if it gets colder.