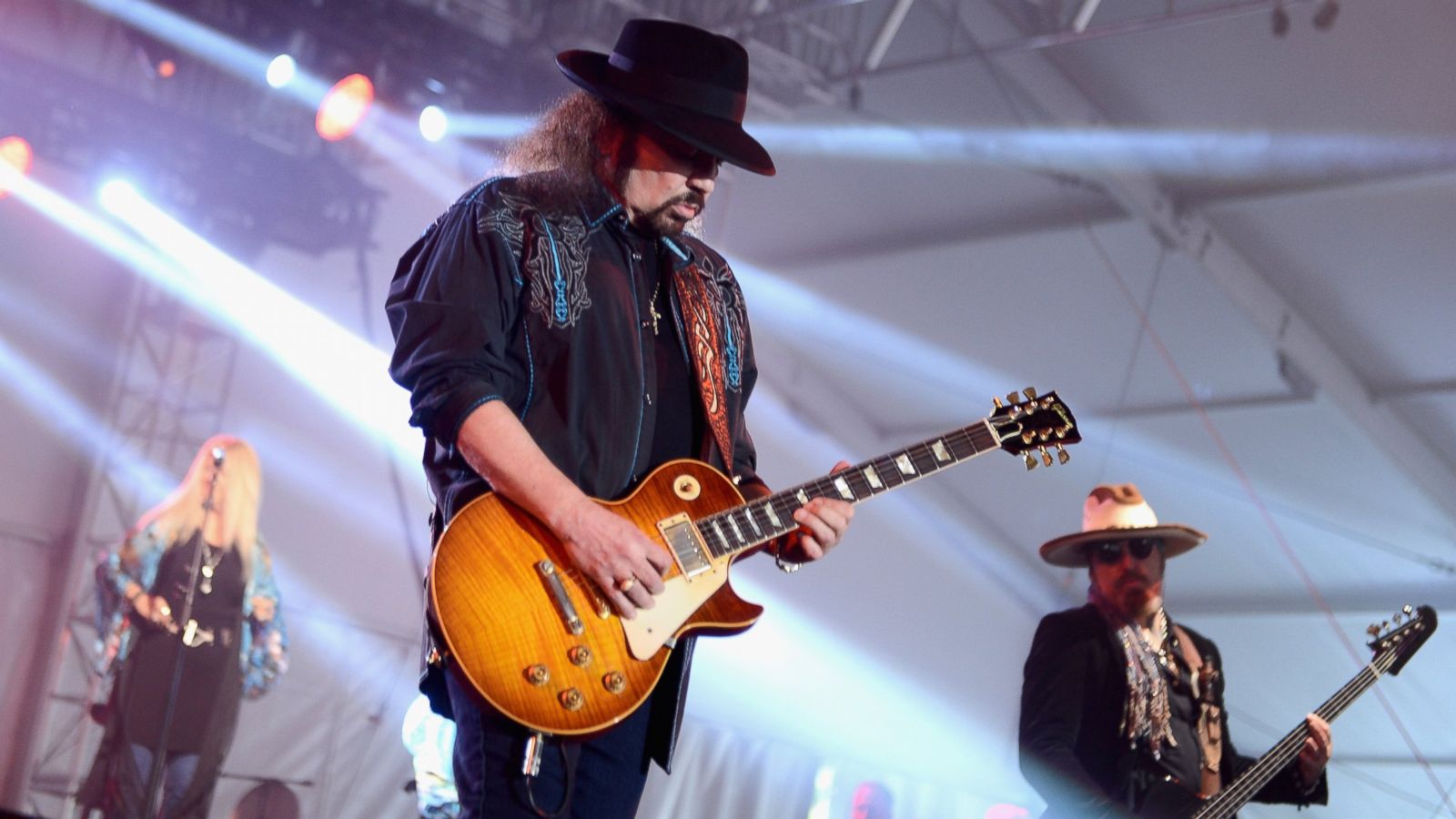 Guitarist Gary Rossington, the last remaining original member of US rock band Lynyrd Skynyrd, has died at the age of 71. One of the band's founding members, he appeared on all of their albums and co-wrote the 1974 hit Sweet Home Alabama. He was also one of the survivors of a 1977 plane crash that killed several of his bandmates. Although he had suffered heart problems in recent years, Rossington had been playing shows as recently as February. No cause of death was given, but Rossington had heart surgery in 2021, according to a post from the band at the time. Rossington was also a founding member of the Rossington Collins Band, along with former bandmate Allen Collins.
Rossington was born in 1951 in Jacksonville, Florida, founding the first iteration of Lynyrd Skynyrd – called Me, You, and Him – in 1964 with drummer Bob Burns and bassist Larry Junstrom. They added singer Ronnie Van Zant, who played on a rival baseball team, later that summer, after a game turned into a jam session. They settled on the name Lynyrd Skynyrd – a dig at their high school gym teacher, who was notorious for punishing students with long hair. Rossington's instrument of choice was a 1959 Gibson Les Paul which he had purchased from a woman whose boyfriend had left her and left behind his guitar. He named it "Berniece" in honor of his mother. The band's rebellious blues-rock earned them a fearsome live reputation in America's southern states. Their debut album, titled Pronounced Leh-Nerd Skin-Nerd, included the nine-minute epic Free Bird – which featured Rossington's distinctive slide guitar work.
In 1974, Sweet Home Alabama – a withering response to Neil Young's Southern Man – gave the band their only UK hit, charting at number 31. Its popularity has endured, and it is the UK's most-streamed track from 1974. Rossington co-wrote several more of Skynyrd's most-loved songs, including I Ain't The One, Things Goin' On, Don't Ask Me No Questions and Gimme Back My Bullets. He also inspired Van Zant to write That Smell – a warning about the band's hedonistic lifestyle, penned after Rossington drove his Ford Torino into a tree while drunk and on drugs. Eerily, three days after it was released, a plane carrying the band between shows crashed in Mississippi, killing Van Zant, guitarist Steve Gaines, his sister and backing singer Cassie Gaines, assistant road manager Dean Kilpatrick and both pilots. Twenty people survived, including Rossington, who was knocked unconscious and woke up with the plane's door on top of him.
The surviving members decided not to continue after the tragedy. Rossington, who was severely injured, had to learn to play again with steel rods in his arm. He formed a new group, The Rossington Collins Band, with several former bandmates in the 1980s, before Lynyrd Skynyrd reformed in 1987 to commemorate the 10th anniversary of the crash, with Van Zant's younger brother Johnny on lead vocals. The band kept going, recording nine studio albums and churning through almost 25 members, as well as being inducted to the Rock and Roll Hall Of Fame in 2010. They were also one of the acts who took to the stage at the 2016 Republican Convention, where Donald Trump was chosen as the party's presidential candidate.
Until his death in 2023, Rossington still played with Lynyrd Skynyrd. With the death of bassist Larry Junstrom (2019), he became the last surviving original member of the band. Rossington and Dale Krantz-Rossington were married in 1982 and had two daughters. Rossington suffered a heart attack on October 8, 2015, after which two Lynyrd Skynyrd concerts had to be canceled. In July 2021, he underwent emergency heart surgery. He died on March 5, 2023, at the age of 71.