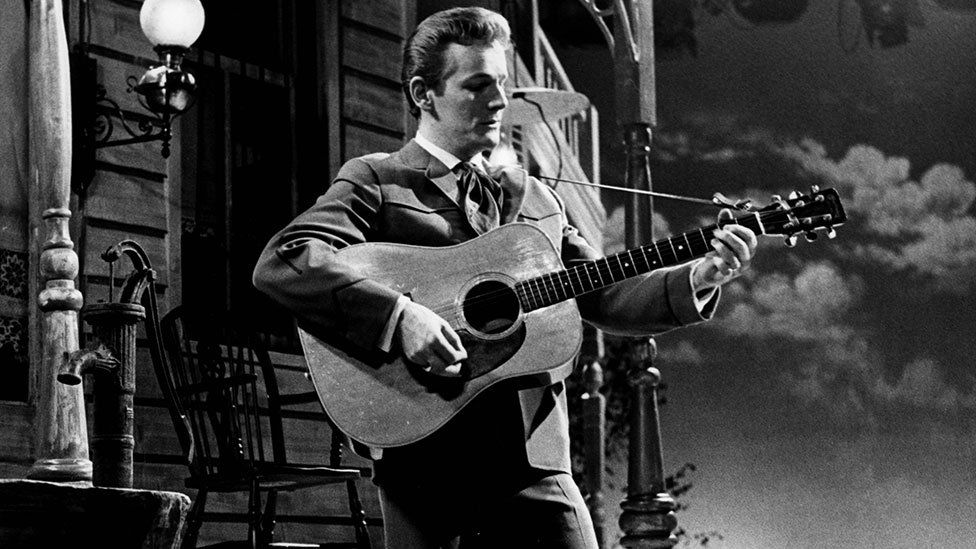 1. Gordon Lightfoot Is A 5- Time Grammy Nominee
Winning a Grammy is amazing but so is getting nominated for one-a nomination means recognition, and recognition gives just about anybody, a sense of fulfillment. Grammy nomination also translates to more opportunities that would otherwise not have been there. Gordon Lightfoot was nominated for the Grammy five times. His song 'The Wreck Of The Edmund Fitzgerald' which was about the final moments of the ship SS Edmund Fitzgerald which sank in 1975 earned him two Grammy nominations. One of them was Song Of The Year.
He was additionally nominated for the Best Folk Performance, Best Folk Vocal Performance, and the Best Pop Vocal Performance. Gordon Lightfoot might have not won a Grammy but won a whopping 17 JUNO Awards in Canada, which are a big deal in the country. They are not only an industry awards event but a week-long festival that travels city to city across Canada.
2. One Of Gordon Lightfoot's Songs Has Been Recorded At Least 100 Times
In 1969 Gordon Lightfoot wrote the song "If You Could Read My Mind" and recorded it. Little did he know that the popularity of the song would have many other artists recording it as well. It has been recorded more than 100 times! The song attracted fellow big-name artists such as Barbara Streisand, Andy Williams, Liza Minnelli, Johnny Mathis, The Bells, Carroll Baker, and Glen Campbell among others. The song is a classic!
3. Musically Speaking, Gordon Lightfoot Had Humble Beginnings
As a musician starting out, Gordon Lightfoot earned a living creating commercial jingles, demo records, and vocal arrangements. This he did while a student of orchestration at Westlake College in Los Angeles. This gives the impression of an artist determined to make it or break out, believing in their talent and dream. Taking it all the way back, Lightfoot was part of several musical groups as a teenager and was a successful songwriter. Fast forward, Gordon Lightfoot recorded his first solo album titled 'Lightfoot!' in 1966. It was a hit and earned him a number of awards.
4. Gordon Lightfoot Has Written Over 400 Songs
A songwriter with a repertoire of more than 400 songs is definitely gifted and has honed his talent. Gordon Lightfoot's works were rather poetic. He wrote on topics ranging from current events to personal matters. Lightfoot could really tell a story. His song 'The Wreck Of The Edmund Fitzgerald' is said to be so beautifully written and expressed, that it takes one through the emotion of the story it tells.
5. Gordon Lightfoot Was An Athlete
An amazing fact about Gordon Lightfoot is that he was a natural athlete. His 6-foot frame and lithe build allowed him to compete in shot put, pole vault, and football. So good of an athlete Lightfoot was, that it earned him scholarships at McGill University School of Music and at the University of Toronto.
6. Gordon Lightfoot Recorded Under Several Record Labels
Over the course of his career, Gordon Lightfoot recorded his music as a signee of various labels and producers. There was however consistency in his success. Marty Robbins and Albert Grossman were two of the earliest people to be involved in Gordon Lightfoot's work- Lightfoot recorded at least five albums, four studio albums, and one liver recording under the United Artists label.
Gordon Lightfoot's next recording deal was with Warner Bros. Here, Lightfoot had several hit albums such as the 'Old Dan's Records' in 1972, 'Cold on the Shoulder' in 1975, and 'Endless Wire' in 1978. Lightfoot's hit single 'If You Could Read My Mind' that earned him a gold disc was recorded at Warner Bros. Lightfoot stayed at the label for a considerably long time- into the 1980s and 1990s. He worked with Linus entertainment in 2003.
7. Gordon Lightfoot Suffered Bell's Palsy
In 1972 Gordon Lightfoot contracted Bell's palsy; it happened right on stage! The artist felt numbness on one side of his face while performing at Massey Hall. He got the Bell's palsy diagnosis backstage. Lightfoot was able to wrap up his Massey performances after which he took several months' break to recover. He however had to cancel some shows as he couldn't tour, but he continued producing music. Bell's Palsy is a condition affecting the face. It causes sudden weakness in facial muscles causing half ones face to appear droopy.
8. Gordon Lightfoot Was Inducted Into The Canadian Music Hall Of Fame
Gordon Lightfoot is one of Canada's greats. He still is regarded as one of the country's greatest singer-songwriters. Consequently, Gordon Lightfoot was inducted into Canada's Music Hall of Fame as well as its Walk of Fame in Toronto. Additionally, Gordon Lightfoot is a member of the Order of Ontario, his birthplace. This is the highest order in the city of Ontario. He was also awarded the highest civilian honor of Companion of the Order of Canada.
9. Gordon Lightfoot Was Honored By A Tribute Sculpture In Orillia
Gordon Lightfoot's hometown Orillia unveiled a 13- foot bronze sculpture at Barnfield Point on the Lightfoot Trail in J.B Tudhope Memorial Park. It was named Golden Leaves and sculpted out of Bronze. Orillia is Gordon Lightfoot's hometown.
10. Gordon Lightfoot Was A Spirited Artist
In addition to his bout with Bell's palsy, Gordon Lightfoot suffered several other medical challenges. He however worked through some of them and got up right after recovering from some of the ones that got him down. His resilience was commendable. His medical challenges began in 2002, during which he missed his tours and concerts all year. He underwent stomach surgery and was in critical care. Right after his recovery, he went to work on a new album under Linus entertainment, and performed in concert in Peterborough, Hamilton, and Mariposa like he never left!
Gordon Lightfoot, also a guitarist, had to use a substitute guitarist in 2006 when he suffered a minor stroke that affected his fingers. He however was back to playing himself in no time. The older the artist grew, the more health challenges he encountered. He however still worked, performing severally and touring countries with sold out shows.