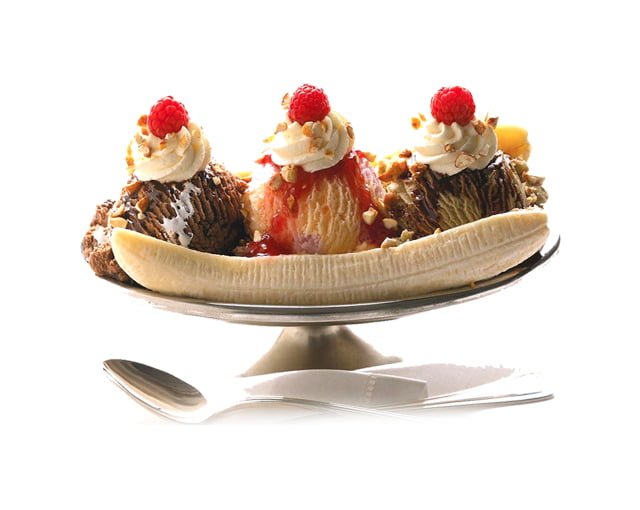 1. Believe it nor not, the simple Banana Split is nutritional. In terms of nutritional content, it holds its own among others options in the dessert category. The average serving contains around 510 calories, 237 calories of which come from animal fats in the ice cream and cream. The treat also contains 76% of the recommended daily intake of saturated fats.
2. The first recorded instance of a banana split was made in 1904 inside a small drug store in Latrobe, Pennsylvania. Invented by apprentice-pharmacist, David Evans Strickler, who then worked for Tassell Pharmacy. Strickler had been inspired by the fruit-filled sundaes on sale in Atlantic City during a vacation and the delicious creation quickly became a hit with local students.
3. The name is taken from the fact that Strickler split the banana down the middle to drop three scoops of ice cream in between. Hence the name. A similar dessert using sliced bananas cut across the banana is known as the Banana Royale.
4. Strickler is actually also credited with inventing the boat-shaped dish that all Banana Splits are now served in. In order to display his famed dessert, Strickler designed a long, narrow dish known as the "banana boat." Stickler had two dozen made by the Westmoreland Glass Co. in a nearby town.
5. The original dessert was made with three scoops of different flavored ice cream, covered in marshmallow, pineapple slices, crushed nuts, cherries, and sweet sugar syrup. But you don't have to adhere to the original recipe to enjoy something delicious. You can get creative with your own toppings.
6. The Banana Splits was also a hugely popular American kids TV show from the late 1960s, which ran from 1968 to 1982 in various formats. The Banana Splits were a fictional rock band composed of four funny animal characters, Fleegle (A greenish-brown dog wearing a large red bow tie), Bingo (A nasal-voiced orange ape wearing white glasses and a yellow vest), Drooper (A lion with a very long tail wearing yellowish-orange glasses), and Snorky (A mute furry elephant wearing pink glasses). The show was recently turned into a horror movie in 2019 by Director, Danishka Esterhazy.