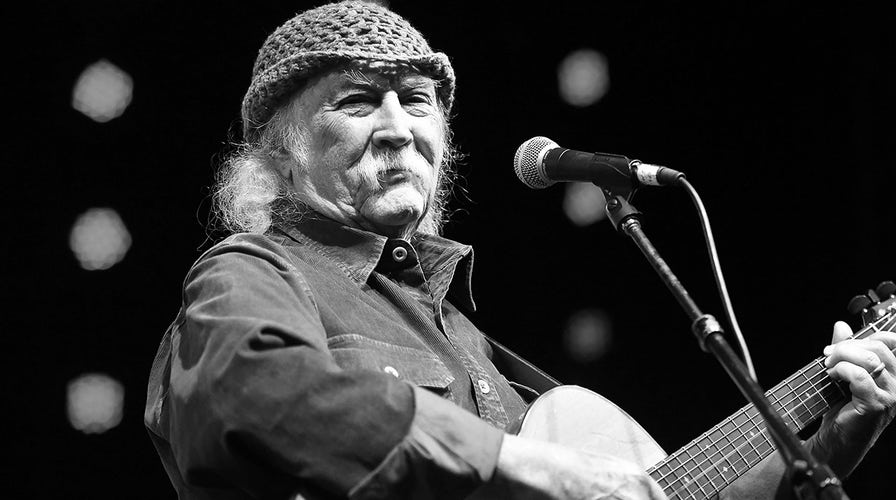 American singer, songwriter, guitarist David Crosby had passed away at the age of 81. He was known for his solo career, his stint with the Byrds but most famously with Crosby, Stills & Nash and Crosby, Stills, Nash & Young. A cause of death has not been revealed. The death came as a surprise to those who followed his very active Twitter account, which he'd kept tweeting on as recently as Wednesday. One of Crosby's final tweets the day before he died was to make a typically jocular comment about heaven: "I heard the place is overrated… cloudy."
David Van Cortlandt Crosby was born in Los Angeles, California, second son of Academy Award-winning cinematographer Floyd Crosby, who formerly worked on Wall Street, and Aliph Van Cortlandt Whitehead, a salesperson at Macy's department store. He briefly attended Santa Barbara City College to stydy drama but dropped out to play music. With bandmates Roger McGuinn, Gene Clark, Chris Hillman and Michael Clarke, Crosby set down the template for '60s L.A. folk-rock in the Byrds during his stormy 1964-67 tenure in the group. They recorded a version of Mr. Tambourine Man, with vocal harmonizing, which went to #1 in 1965. Disagreements and tensions with the band saw Crosby leave the band after arguments subsequently received a cash settlement, with which he bought a sailboat and soon after, he began working with Stephen Stills and Graham Nash in the successful supergroup Crosby, Stills & Nash.
Having met Stills at a party at the home of Cass Elliot (of the Mamas and the Papas) in California in March 1968, the two started meeting informally and jamming together. They were soon joined by Graham Nash, who would leave his commercially successful group the Hollies. Their multi-platinum 1968 debut inaugurated rock's supergroup era, their appearance at the Woodstock Music and Art Fair in August 1969 constituted only their second live performance. Their first album, Crosby, Stills & Nash (1969), was an immediate hit, spawning two Top 40 hit singles and receiving key airplay on the new FM radio format, in its early days populated by unfettered disc jockeys who then had the option of playing entire albums at once. The songs Crosby wrote while in CSN include "Guinnevere", "Almost Cut My Hair", "Long Time Gone", and "Delta". He also co-wrote "Wooden Ships" with Paul Kantner of Jefferson Airplane and Stephen Stills.
In 1969 Neil Young joined the group, and with him, they recorded the album Déjà Vu, which peaked at number 1 on the Billboard 200 and the ARIA Charts. a constant clash of egos within Crosby, Stills, Nash & Young, fueled by the rock excesses of the era, toppled the act during the '70s, though its members would regroup sporadically over the years as a recording and touring unit. Crosby's most stable association was with Nash: The duo recorded and toured regularly into the new millennium. The hedonistic personification of the '60s sex-drugs-and-rock 'n' roll lifestyle, he grappled with addiction for many years. His sensational 1982 arrest in Texas on drug and weapons charges led to a five-month prison stay in 1986. Wracked by years of cocaine and alcohol abuse, he underwent liver transplant surgery in 1994.
Crosby recorded and toured profitably into the 2000s. He was inducted into the Rock and Roll Hall of Fame twice, as a member of the Byrds (1991) and Crosby, Stills & Nash (1997). As a duo, Crosby & Nash (C&N) released four studio albums and two live albums, including Another Stoney Evening, which features the duo in a 1971 acoustic performance with no supporting band. He sang backup for on several Paul Kantner and Grace Slick albums from 1971 through 1974. Crosby worked with Phil Collins occasionally from the late 1980s to the early 1990s. He sang backup to Collins in "That's Just the Way It Is" and "Another Day in Paradise", and, on his own 1993 song, "Hero", from his album Thousand Roads, Collins sang backup.
In January 2014, Crosby released his first solo album in 20 years, Croz, recorded in close collaboration with his son James Raymond (of CPR) at the latter's home studio. On July 14, 2016, Crosby announced a new solo album named Lighthouse, which was released on October 21, 2016, and shared a new track from it titled "Things We Do For Love". In September 2017, Crosby announced a solo album (his third one of original material in four years and his sixth in total) entitled Sky Trails. On October 26, 2018, Crosby released Here If You Listen on BMG, his first collaborative album with Michael League, Becca Stevens, and Michelle Willis, all members of the Lighthouse Band, touring later that year. Crosby was the subject of the documentary film David Crosby: Remember My Name which premiered at the 2019 Sundance Film Festival. In July 2021 Crosby released what would become his final studio album, For Free.
Crosby had a son with Celia Crawford Ferguson, James Raymond, in 1962, who was placed for adoption and reunited with Crosby as an adult. Since 1997, Raymond has performed with Crosby on stage and in the studio, as a member of CPR and as part of the touring bands for Crosby & Nash and Crosby, Stills & Nash. Crosby had three other children: a daughter, Erika, with Jackie Guthrie, a daughter, Donovan Crosby, with former girlfriend Debbie Donovan, and a son, Django Crosby, who was conceived with wife Jan Dance after extensive fertility treatments while Crosby's liver was failing. Crosby, then 45, married Jan Dance, then 35, in May 1987 at the Hollywood Church of Religious Science in Los Angeles.
Crosby's brother Ethan, who taught him to play guitar and started his musical career with him, committed suicide in late 1997 or early 1998. In January 2000, Melissa Etheridge announced that Crosby was the sperm donor of two children with her partner Julie Cypher by means of artificial insemination, who unfortunately died died of causes related to opioid addiction at the age of 21.