There always is one woman for every guy, and for quite a lot of girls & women as well, who will always be the epitome of the perfect woman. No matter how many years have passed since that woman was first seen, she grows more and more beautiful as the days go by. For some it's Marylin Monroe or Bo Derek or Raquel Welch. For me it has always been Elizabeth Montgomery – the late star of the technicolour sit-com Bewitched. She was one of the most cutest & beautiful woman to ever have graced this planet. You can't say that she was my first crush (atleast on tv or the movies) but prehaps pretty close to it. I remember watching her in my much younger days when I was in Kuwait.
They have been showing reruns of Bewitched on Hallmark for a few months. I tried to watch some of it at night just to gaze at the lovely Montgomery. For those of you who have seen the series, she has the most adorable twitching of the nose that you could ever hope a woman to have. That trait of hers is enough for any guy to fall in love with her. This show was a huge success during its eight-year run from 1964 to 1972 and remains popular through syndication. She was born in Los Angeles, California, she was the daughter of actor Robert Montgomery and his wife, Elizabeth Bryan Allen. Montgomery made her television debut in her father's series Robert Montgomery Presents, and her film debut in 1955 in The Court Martial of Billy Mitchell.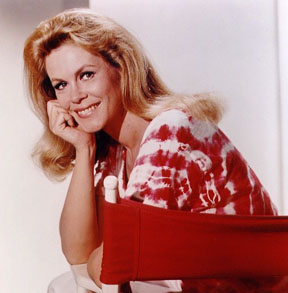 Montgomery received five Emmy Award and four Golden Globe nominations for her role as "Samantha" the loving wife & witch who tries her best to have a normal human life with her husband and ward off the tricks of her devious & humourous mother, who loves to irritate her son-in-law. Montgomery received five Emmy Award and four Golden Globe nominations for her role as Samantha. She received Emmy Award nominations for playing a rape victim in A Case of Rape (1974), for her portrayal of the notorious Lizzie Borden in The Legend of Lizzie Borden (1975), and for her role as a strong woman facing hardship in 1820's Ohio in the mini-series The Awakening Land (1978). She also made a chilling villain in the 1985 picture Amos, playing a nurse in a state home who terrorized residents Kirk Douglas and Dorothy McGuire.
Her final acting role was in an episode of Batman: The Animated Series untitled "Showdown," in which she played a barmaid. Elizabeth Montgomery died of colorectal cancer on May 18, 1995, at the age of 62. She died just eight weeks after being diagnosed with the disease. At the time of her death, the media widely reported that she had ignored the symptoms of her illness until it was too late, as she was caring for Robert Foxworth, who had had hip replacement surgery. But for me Elizabeth or Samantha will forever live in my heart as the ideal woman who a guy can pine and yearn for. She will forever "bewitch" me!