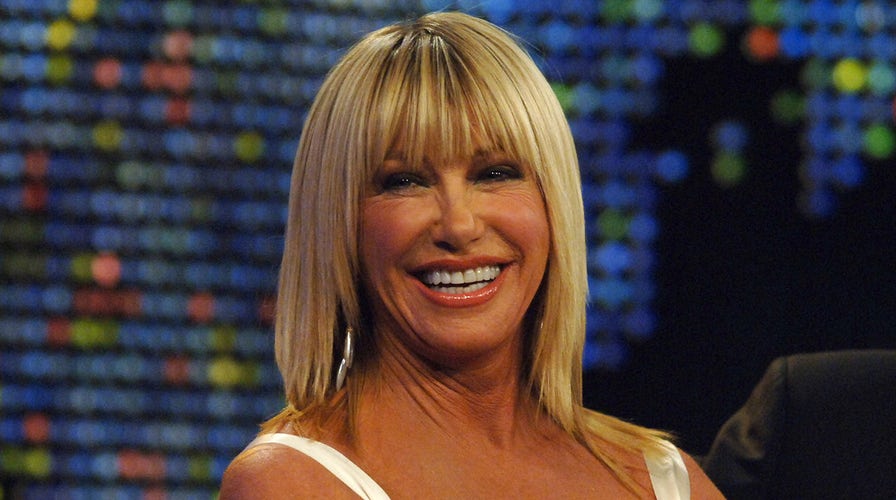 Suzanne Somers, American actress, author, singer, businesswoman, and health spokesperson, has died at the age of 76 on 15th October. Best known for her roles on Three's Company and Step by Step she would have turned 77 today. She was cast in the television role of Chrissy Snow on Three's Company from 1977 to 1981 and as Carol Foster Lambert on Step by Step from 1991 to 1998. Somers later became the author of several books, including two autobiographies, four diet books, and a book of poetry.

"Suzanne Somers passed away peacefully at home in the early morning hours of October 15th. She survived an aggressive form of breast cancer for over 23 years," Somers' longtime publicist R. Couri Hay wrote in a statement shared on behalf of the actress' family. "Suzanne was surrounded by her loving husband Alan, her son Bruce, and her immediate family," the statement continued. "Her family was gathered to celebrate her 77th birthday on October 16th. Instead, they will celebrate her extraordinary life, and want to thank her millions of fans and followers who loved her dearly."
Born into an Irish-American Catholic family in California, Suzzane had trouble during her childhood due to being dyslexic. She dropped out of college in 1965 when she found out that she was pregnant and married Bruce Somers and gave birth to a son, Bruce Jr. The marriage ended in divorce in 1968 but she kept the last name. Somers began acting in small roles during the late 1960s and early 1970s, including on various talk shows promoting her book of poetry, and bit parts in movies. She also appeared in The Rockford Files in 1974 and had an uncredited role as a topless "pool girl" in Magnum Force in 1973. She also had a guest-starring role on The Six Million Dollar Man  & landed her most famous role of the ditzy blonde "Chrissy Snow" on the ABC sitcom Three's Company in 1977.
She portrayed Chrissy Snow, a stereotypical dumb blonde, who was employed as an office secretary. The series co-starred John Ritter and Joyce DeWitt in a comedy of errors about two single women living with a single man who pretended to be gay in order to bypass the landlord's policy of prohibiting single men sharing an apartment with single women. Somers said she was fired for asking to be paid as much as popular male television stars of the day. Somers appeared in two Playboy cover-feature nude pictorials, in 1980 and 1984. In the 1980s, Somers became an entertainer in the Las Vegas Valley & as the spokeswoman in a series of infomercials for the Thighmaster. From 1987 to 1989, Somers starred in the sitcom She's the Sheriff, which ran in first-run syndication.
In September 1991, Somers returned to series television in the sitcom Step By Step (with Patrick Duffy), which became a success on ABC's youth-oriented TGIF lineup. Somers also launched a daytime talk show in 1994, titled Suzanne Somers, which lasted one season. From 1997 to 1999, Somers co-hosted the revised Candid Camera show and continued working till 2015. She had a more successful second marriage with Canadian born television host Alan Hamel. Somers had three granddaughters, Camelia and Violet Somers and Daisy Hamel-Buffa. In April 2000, Somers was diagnosed with stage II breast cancer and had a lumpectomy to remove the cancer followed by radiation therapy. In July 2023, her cancer returned and Somers died at her home in Palm Springs, California, on October 15, 2023, the day before her 77th birthday.