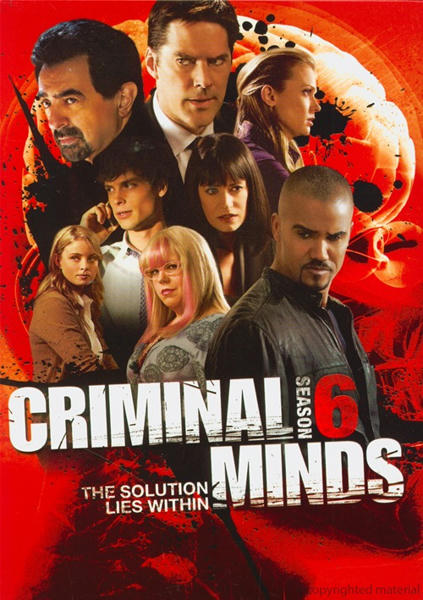 For one of the most cerebral tv series out there, the producers of Criminal Minds went and did a stoopid thing! They let AJ Cook go due to contract negotiations failing. Yes, JJ only appears in the first two episodes and her departure is explained with a new job offer that she can not ignore, but is almost forced to take up by the FBI. This happens after part two of hunting the "Prince of Darkness" to retrieve Spicer's daughter, in which JJ negotiates with him to release the girl. To replace her the makers introduced Rachel Nichols as  FBI Cadet Agent Ashley Seaver; she appeared as a guest star for two episodes and was then promoted as a regular, but departed after the season finale.
Let's get to the cases : Rossi believes that an old murderer with Alzheimer's, whose case has haunted him for 25 years, has appeared again after several women are found dead in the same manner. The BAU travels to Akron, Ohio to investigate a series of murders on couples, who are forced to have sex before being murdered and then another case where they are called in to investigate the murders of entire families. The BAU is called in to Detroit to investigate after several people are found burned alive once a year before Halloween, which they later find out that the victims chosen by the unsub are not random.  the BAU must race against time when they realize they only have two days to find the latest victim who has just been kidnapped, when the bodies of exotic dancers are found murdered in the corn fields of Indiana two days after being kidnapped. Then it's back to DC where an unsub cuts off the lips of his female victims.
The BAU team has to go deep into the forests of the Appalachian Trail after a man who targets young boys in the wilderness. Morgan testifies that a man should be released on parole but regrets his decision when, only days later, it seems that the man kills somebody. Two young lovers embark on a murder spree in Montana that sends the BAU team to investigate and stop them before they kill again. The team then has to track down a bogus self motivational coach who kills her patients in New York, who targets weaker willed young women.  Reid tries to make a connection with an autistic child to help in finding the boy's missing parents in Lafayette, Louisiana. The BAU hunts a stalker in San Diego who is targeting college students. The the BAU is called to a North Carolina resort town after a woman is found badly injured and another woman is missing. On arrival, the team discovers these two women are not the only victims. The discovery of bodies buried in the ocean floor off Jacksonville prompts the BAU to intervene; Morgan's aunt suspects her missing daughter may be among the dead. The team tries to close the most challenging case involving two bodies and a human trafficking organization.
Ok now the second major change. Prentiss is alerted by her former colleagues in Interpol that a man named Ian Doyle has escaped from prison in North Korea. We flashback to a past undercover job in Italy, during which she was acting as his girlfriend and surveiling Doyle. One by one her old team members are killed by Doyle and his men. it is revealed that Prentiss had been a spy eight years previously, on a task force profiling terrorists; while undercover, she met Ian Doyle (an arms dealer) and became his lover. Her betrayal of Doyle led to his arrest and subsequent imprisonment, including time in a North Korean prison. Prentiss tracks down Doyle in Boston and tries to kill him, but he takes her hostage. Prentiss reveals to Doyle that his son, who he believed had been killed, is alive, and that she staged photos of her executing the boy in order to get Doyle to break under interrogation in North Korea. The two start fighting, and Doyle stabs Prentiss in the abdomen with a stake; even though she is dying, she refuses to tell him where his son is hiding, and Doyle escapes shortly before the FBI reaches her.
In the hospital, the BAU team is notified that Prentiss has died, and they attend her funeral. The last scene, however, reveals she is alive and in Paris, where JJ meets her and gives her an envelope with "passports from three different countries, and a bank account in each one to keep [her] comfortable. As the team copes with her loss (only JJ & Hotch are aware of her still being alive) Hotch tells them that there will a further change in team. This change turns out to be a positive one as the season ends with Rossi meeting JJ in his office and asking her if she was ready to come back to which she says "yes".