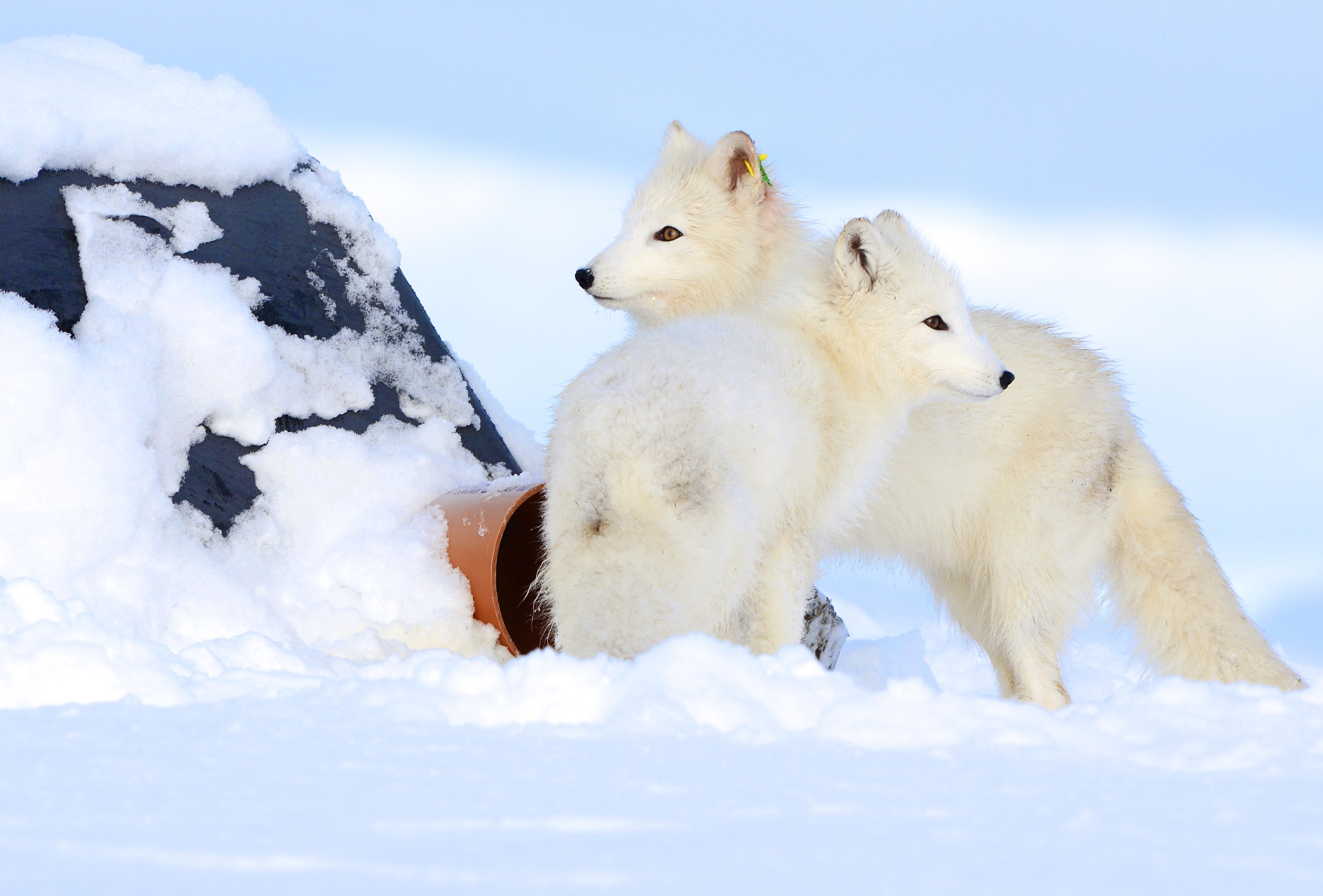 1. THERE ARE 8 RECOGNISED SUBSPECIES OF THE ARCTIC FOX
The Arctic fox numbers are believed to be at least several hundred thousand in the wild, which are stable and of least concern at present. Based on genetic studies, 8 subspecies of Arctic fox have been described:
Mainland Arctic fox Vulpes lagopus lagopus
Iceland Arctic fox Vulpes lagopus fuliginosus
Greenland Arctic fox Vulpes lagopus groenlandicus
Spitsbergen Arctic fox Vulpes lagopus spitzbergenensis
Hall Island Arctic fox Vulpes lagopus hallensis
Bering Island/Sea Arctic fox Vulpes lagopus beringensis
Pribilof Islands Arctic fox Vulpes lagopus pribilofensis
Ungava Bay (Fort Chimo) Arctic fox Vulpes lagopus ungava
2. THEIR POPULATIONS FLUCTUATE IN RESPONSE TO LEMMING NUMBERS
Arctic foxes depend on lemmings as their main food source in inland areas, creating a tight-knit predator-prey relationship between them. Consequently, most of their populations fluctuate between years in response to lemming numbers going up and down, as part of their natural population cycle. While the Arctic fox numbers are stable in their frozen environments, they are still vulnerable to lemming populations crashing at regular intervals.
3. THEY LIVE IN SOME OF THE HARSHEST PLACES ON THE PLANET
Arctic foxes are well adapted to living in icy-cold environments, such as the Arctic and alpine tundra of the polar region in the Northern hemisphere. The Arctic fox is also much smaller, stouter and more compact than other members of the Fox family, which helps to reduce heat loss due to lower total body surface area. The thickness of the fur also increases for the winter season to help maintain a stable core body temperature and also survive the harsh, cold conditions of the Arctic. With the ability to physically adapt to survive winter, Arctic foxes never have to hibernate.
4. THEY CHANGE THEIR FUR COLOUR DEPENDING ON THE SEASON
Different seasons can mean different climatic conditions and opportunities for the Arctic fox. So its fur colour can change between seasons for thermal insulation as well as to help blend with its immediate surroundings. In the winter, their fur morphs into the iconic, thick white coating. But as summer arrives, snow melts, and Arctic foxes start to shed their long white coat to a shorter, thinner fur, which can come in a variety of colours, from dark and light grey, charcoal brown to bluish brown coating.
5. THEY HAVE DARK-COLOURED SKIN UNDERNEATH THEIR FUR COATS
Arctic foxes have a darker skin pigmentation—similar to Polar bears—underneath their fur coating. The darker skin colour is better at absorbing and retaining heat, which can be an advantage, especially in colder environments such as the frozen Arctic.
6. THEY CAN ALSO SNOW-DIVE TO CATCH THEIR PREY
An Arctic fox usually has different tricks up its sleeve when hunting. Lemmings are its favourite prey, but they live in a complex network of tunnel systems buried deep within the snow, protecting them from predators on the ground. So, Arctic foxes carefully listen for lemmings moving or burrowing underneath the snow to pinpoint their location by tilting their heads. Once the prey is located, an Arctic fox can jump several feet in the air and nose dive into the snow to catch its prey. Sometimes, it takes more than a few tries, but it's the effort that counts.
7. THE ARCTIC FOX HAS A SHORT LIFESPAN IN THE WILD
The survival rate of adult arctic foxes can vary depending on the region, food availability and the number of predators in the area. But usually, they live up to 3-4 years in the wild.
8. THEY SOMETIMES FOLLOW POLAR BEARS WHEN FOOD BECOMES SCARCE
In the wild, food can be hard to find, especially in polar regions during the long winter months. So the Arctic fox diet is often varied including small mammals, such as lemmings and voles, seabirds, waterfowls and grouse, berries, seaweed, eggs, insects and even frozen carcasses. During prey scarcity, arctic foxes will sometimes follow polar bears on their hunting trip to scavenge on any remaining scraps left by the bear.