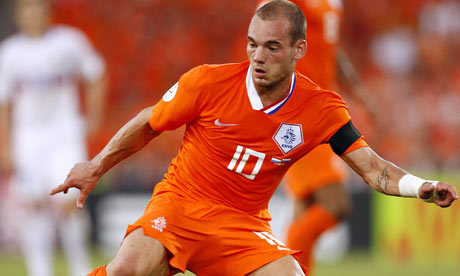 The Netherlands showed Brazil the exit door while beating the overhyped and overblown South Americans 2-1. Brazil also had a player sent off.
Robinho gave the Brazilians the lead on Felipe Melo's brilliant low pass up the middle of the field that the striker put home with a low shot. Wesley Snijder was hugely instrumental, setting up the first and scoring the second. The Dutch levelled out of the blue in the 53rd minute after a rare mistake from Brazil's usually impenetrable defence, as Felipe Melo headed Sneijder's cross into his own goal.
Then Sneijder headed a winner as the Dutch, battling to their 13th successive World Cup win to maintain a perfect record in the qualifiers and finals, avenged a quarter-final defeat in 1994 and a semi-final defeat four years later. Brazil were not able to shutout the Dutch, who took charge in the second half and showed their desire. Brazil paid dearly in the 68th minute when Dirk Kuyt flicked on Arjen Robben's corner at the near post and Sneijder headed into the net.
Shortly afterwards, Felipe Melo was sent off for stamping on Robben.