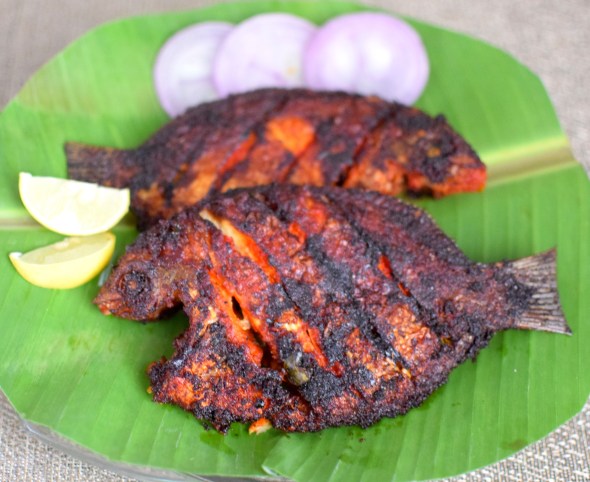 The green chromide is a species of cichlid fish that is native to fresh and brackish water habitats in some parts in India such as Kerala, Goa, Chilika Lake in Odisha and Sri Lanka. It is also called pearlspot and in Kerala's native language of Malayalam it is called karimeen. I think it is safe to call it Kerala's most favourite fish to eat as it is a popular food fish and it is considered a delicacy. In 2010 this species was named the official state fish of Kerala. The following year was declared "The Year of the Karimeen". Karimeen pollichatthu, a fried dish, is a delicacy served in restaurants.
At the toddy shops in the state, it is shallow fried in coconut oil. This recipe comes from one such toddy shop.
Ingredients
4 Karimeen or pearl spot fish, cleaned and with head intact
2 tbsp ginger-garlic paste
2 tbsp red chilli powder
1 tsp pepper powder
1 tsp lemon juice
1/2 tsp turmeric powder
Salt to taste
Coconut oil for frying
Preparation
In a bowl, mix the ginger-garlic paste, turmeric, red chilli, pepper, salt and lemon juice.
Smear the masala on the Karimeen and leave for 30 minutes.
Deep fry in coconut oil. Serve hot.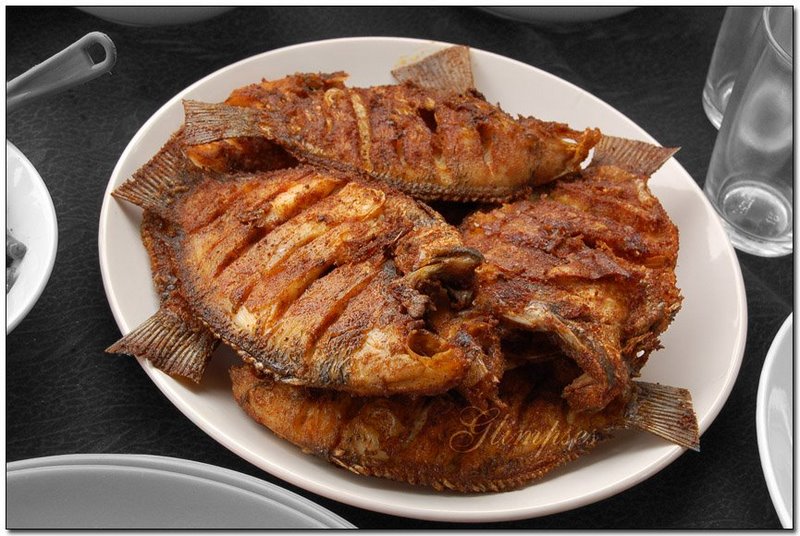 You can also try the karimeen pollichathu version – marinating the fish with  lime juice, turmeric, black pepper, Kashmiri red chilli powder and salt, coconut oil, ginger, garlic, onion, tomato, curry leaves and green chillies in it and then wrapping it up in a banana leaf and cooking it. Or you can also try a karimeen curry, simmered with spices and coconut milk and is flavorful and delicious or make it a spicy one.
Either way that you make it, it is a very tasty fish. My favourite way is the fried version but pollichathu is also pretty good. Goes well with beer or any liquor as well as rice and veggies.