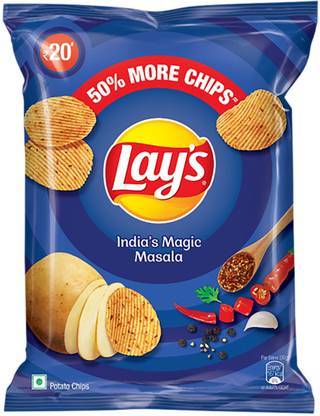 I had been wondering about this particular flavour of Lay's. Lays chips are one of my fav coffee time snack and I also like them with some alcohol. My favourite ones are the Cream & Onion flavour, which used to be called the American Cream & Onion flavour. A close second favourite is the Tangy Tomato.
Now, I don't mind spicy chips. Infact there are some that I like and Lays also has a West Indies Hot n' Sweet Chili flavour which is really good. But there is good spice and spice that doesn't taste all that good. Magic Masala Potato Chips is another in a line of Indian Frito-Lay chips that are out there. I have avoided them for this long because I just didn't see the point in getting a masala flavoured chip. "Masala" too is weird as a choice of flavour name as it just means spice but not a specific mix of spices. For the first time I had the India's Magic Masala one as I had some apprehensions about trying out a "masala" flavoured potato chip.
I made my coffee, opened up one of the 2 small Rs.10 packs I bought and sat down in front of my laptop and try them. Good thing I only bought the small ones. It's not that good and it's not a good spice. I bought it a bit meh and I probably may never buy them again. The ingredients list says it contains Potato, Edible Vegetable Oil,**Spices & Condiments (Onion Powder, Chilli Powder, Dry mango powder, Coriander powder, Ginger Powder, Garlic Powder, Black pepper powder, Turmeric powder, Cumin), Salt, Black Salt, Sugar, Tomato powder, Citric acid, Tartaric acid.
I will give it 2 outta 5 stars!!