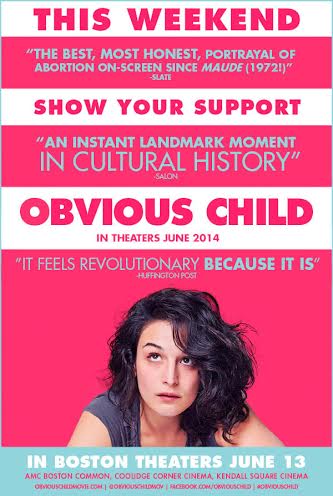 Written and directed by Gillian Robespierre (based on her 2009 short film) Obvious Child is an American romantic comedy film stars Jenny Slate, Jake Lacy, Gaby Hoffmann and David Cross with Richard Kind and Polly Draper. The film is Robespierre's directorial debut and focuses on abortion.
Donna Stern is a young 28 year old woman who works at a struggling book store and does regular gigs as stand up comedian at a small bar. On her birthday her boyfriend breaks up with her as he often gets embarrassed when she talks about their sex life on stage for laughs. He also has been cheating on her with a close friend and proceeds to move in with her right after. Heartbroken she drinks a lot and gets sympathy from her best friend and roommate Nelli as well as Joey, their gay friend who is also a comedian. She is about to get another bit of unpleasant news when her boss says that the book store is closing as they don't make enough profit and have 6 weeks to sell as much of their stock as possible. As Donna visits her divorced parents separately and drowns in pity.
One evening at the bar she meets a preppy & studious Max with whom she hits it off as they spend the rest of the night drinking and end up in bed. To her chagrin she discovers that she is pregnant. Nelli, who went through an abortion in her teens offers her support and says that although she often thinks of her unborn child, she never regretted the decision. Although she keeps running into Max she doesn't tell him about the pregnancy. She invites him to see her set after one such chance meeting but leaves to go hang out with a friend & fellow comedian Sam, which upsets Max who then avoids her. After rejecting Sam's awkward advances, Donna takes a taxi to her mom's place and weepily tells her about the baby. Her mom is surprisingly supportive and tells her about her own unplanned pregnancy and abortion while she was a college student, before she met Donna's father. Donna makes an appointment to get an abortion and finally, decides to tell Max after finding out that he is her mom's student. She does this by blurting it out while on stage while he stands in the crowd. Max is upset and leaves but decides to forgive her and joins her as she goes to the clinic for the procedure.
It is at times sweet and funny and even thoughtful. My only issue with the film is the lead actress, who I did not like. Well it is more correct to say that I didn't like the lead character because I do think Jenny Slate is at times funny but I couldn't stand the constant repetitive and stalling way that Donna delivers some of her jokes while on stage. And her laugh, at her own jokes or even before the punchlines, is so annoying. The character actually ruined some of the film for me. It's a low budget, indie type film set in New York and I like the locales and the places. 7 outta 10!