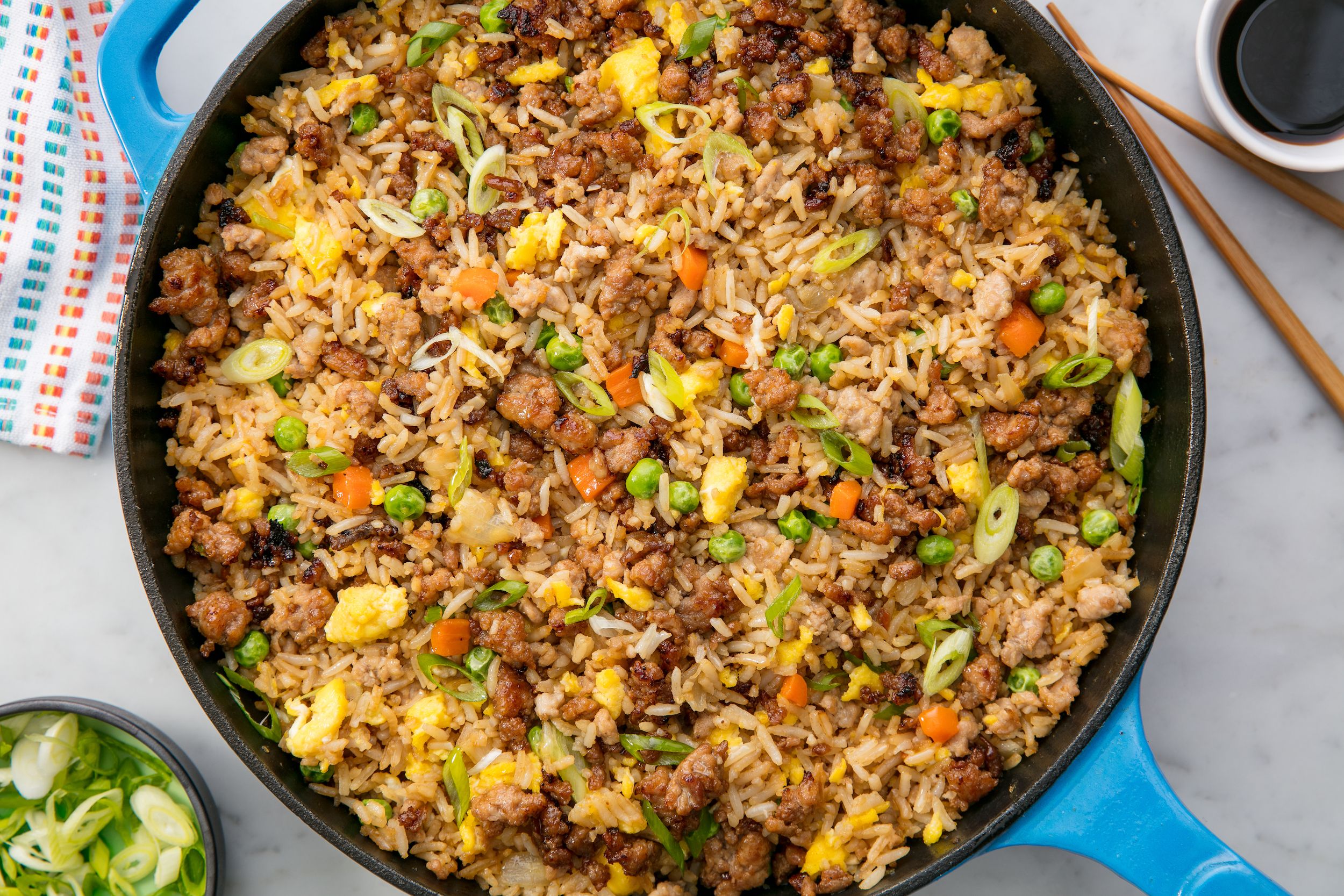 A quick skillet of pork fried rice is one of the easiest, most satisfying ways to transform leftover rice into a complete meal. Here, we've added crumbles of ground pork, a couple of eggs, and whatever vegetable you've got in the freezer to create a winning dinner.
Ingredients you will need :
Ground pork: Ground pork is what makes this recipe so quick. Most fried pork recipes call for pork cutlets, which take much longer to cook.
Leftover rice: Freshly cooked rice isn't as dry and therefore not as sticky.
Frozen veggies: Peas and carrots are typically what's included, but feel free to add your favorites to give the dish some color and snap.
Soy sauce or tamari: Adds a salty flavor to complement the crumbly pork.
Sesame oil: This is added at the end to give the dish an extra bit of nuttiness.
2 large eggs: Though there's no rule that you have to include scrambled eggs to fried rice, it adds protein, color, and that wonderful egg-y flavor.
Small yellow onion: A small onion is sautéed at the beginning of this recipe for added depth and flavor of this basic dish.
INGREDIENTS
1

small yellow onion

3 

tablespoons

vegetable oil, divided

2

large eggs

8 

ounces

ground pork

1 

teaspoon

kosher salt

1/4 

teaspoon

freshly ground black pepper

2 

cups

cold cooked white or brown rice

1/2 

cup

frozen peas and carrots

2 

tablespoons

soy sauce or tamari

1 

teaspoon

toasted sesame oil
Dice 1 small yellow onion.

Heat 1 tablespoon of the vegetable oil in a wok or large nonstick frying pan over medium-high heat until shimmering. Add 2 large eggs and gently scramble with a rubber spatula until just softly set, 1 to 2 minutes. Transfer to a bowl or plate and set aside.

Add the onion, 8 ounces ground pork, 1 teaspoon kosher salt, and 1/4 teaspoon black pepper to the pan. Cook, breaking up the meat with a wooden spoon into small pieces, until the pork is cooked through and the onion is tender, about 5 minutes.

Add the remaining 2 tablespoons vegetable oil and let heat for a few seconds. Add 2 cups cold cooked rice, 1/2 cup frozen peas and carrots, and 2 tablespoons soy sauce or tamari, and stir-fry until the rice is heated through, 2 to 3 minutes. Return the eggs to the pan. Remove from the heat and stir in 1 teaspoon toasted sesame oil.