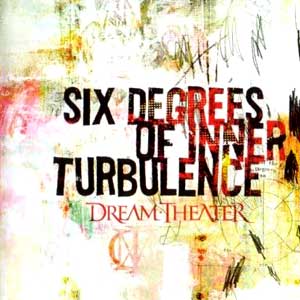 The 6th full length cd released by New York progressive giants, Dream Theatre, Six Degrees Of Inner Turbulence, is a two cd effort that was released in 2002. The first disc consists of five lengthy tracks while the entire second disc is occupied by the 42-minute title song broken into 8 tracks. The differences between the two CDs are two different types of Dream Theater styles. The first disc is generally seen as experimental and heavy while the second disc is seen to be more in line with the previous Scenes From A Memory. Blind Faith is an awesome track, which I place among the best that DT have to offer. The song is rarely played live as the unison section between Jordan Rudess and John Petrucci (timestamp – 7:55) is very difficult to play. Then you have Misunderstood, beginning as a ballad and followed by a dark mood with some crimsonesque guitar work. The Great Debate features excellent drumming and bass playing, and many rhythm changes in the bridge. Disappear is a melancholic ballad.
Six Degrees of Inner Turbulence fills up the entire second cd as the sixth song and title track. Though the song is essentially broken up into eight movements, the track itself is one 42 minute song and took up the entire second CD of the album. The song explores the stories of six individuals suffering from various mental illnesses. Particularly represented are bipolar disorder (About To Crash), post-traumatic stress disorder (War Inside My Head), schizophrenia (The Test That Stumped Them All), autism (Solitary Shell), post-partum depression (Goodnight Kiss), and dissociative identity disorder (Losing Time). The song also contains musical influences from classical, to metal, to folk and progressive. Some parts of the song are direct nods to some of the bands musical influences.
Grand Finale's lyrics advise the listener to be more understanding of the people who carry these and similar afflictions, and to accept them as they should be. This section of the song sums up the entire 6 degrees. The guitars by John Petrucci blaze throughout the album, Jordan Rudess shines on the keyboards & there are some intricate piano playing in there, Mike Portnoy is a mega drummer, John Myung's bass lines thumping all throughout and James La Brie proves once again why he is known as one of the most powerful vocalists in rock music.
As you can see by the subject matter & the epic musical styles, Dream Theatre is not for everyone. If you idea of great lyrics & music is Britney or Beyonce – get the hell out! But you grew up on Rush or Yes, then Dream Theatre and Six Degrees Of Inner Turbulence is for you. Great album, which is better in places than it's predecessor, Metropolis Pt. 2: Scenes from a Memory.
Song for the day – "Blind Faith" – DREAM THEATRE