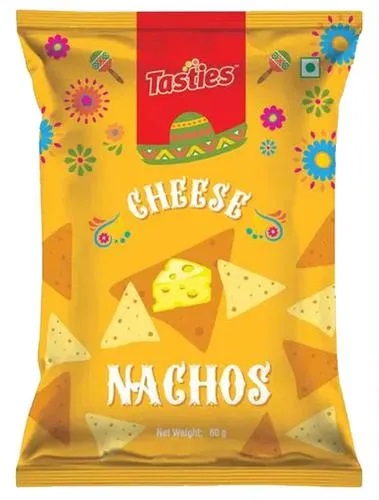 So I am always on the look out for coffee time snacks. I guess they can also be called as soft drink snacks (with Coke or Pepso or 7UP) or beer snacks. And I want to try out all the options we do get here. Chips are ofcourse number 1 on the list. Taking a break from Lays, I decided to try out the Indian brand Tasties that also makes cookies and other stuff.
Tasties Nacho Chips – Cheese is the perfect snack for cheese lovers. Made with premium quality corn, the nachos have zero trans fat, making them perfect for snacking any time of the day or night. The cheese flavour brings in that extra zing. Perfect to have with dips or sauces, make your game nights more fun with these cheese nachos. Explore Tasties' full range of products from baked snacks, gourmet popcorn and roasted seeds.  I ordered some via Big Basket which is the preferred grocery shopping app in recent years.
The cheese taste isn't overpowering but just enough that you feel it lingering on your tongue for a while. The nacho chips are delightful and crispy and not too thin. I would say that these are best with coffee or tea or even with a soft drink but not with alcohol as you need something more hardier with your drink. You get these nacho chips in 60g or 120g bags. I will give them an 8 outta 10!