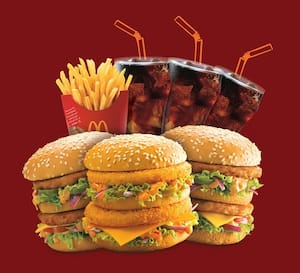 So since the recent lockdown started on May 8th I have been staying in alone at home. Most of my meals have been delivered from restaurants and cafes. Breakfast I can manage with a bit of bread but I am not good at cooking so I order in for lunch and dinner.
It's usually a wrap or some rice and veggie gravy but yesterday I got stuck on getting some McDonalds's as I felt like getting one. So for lunch I bought a McSpicy Paneer burger (yeah yeah, I know a veggie burger) with fries and a Coke. When I got it the burger went down well but for some reason I didn't like the fries. I usually eat my fries first before I unwrap the burgers but I just couldn't wait to be done with the fries. And I usually love fries. For some reason I didn't like them.
In the evening I wanted to get some sub or wraps from Subway and also get a cookie or two. However due to the lockdown, the delivery services like Zomato & Swiggy are only allowed to deliver till 7:30 pm and hence most of the restaurants stop accepting orders by 6:15 pm or 6:30 pm and I completely forgot to order them because I was in the shower. I tried but I couldn't get any of the Subways (6) in the city. I checked and saw that McDonald's was available. Two orders from McD's in the same day? Well I got a double McSpicy chicken with 6 piece nuggets and a large Oreo McFlurry. No fries this time.
So for a day I was like millions of people in a Western country who perhaps have had all their meals for a day from McDonald's. Like maybe in America, where as far as I know, some people who are below the poverty level do get a lot of their food from the Golden Arches as they are cheaper. And it was ok!